Contact

Groupe JMM
33 quai de Ripaille
74200 THONON LES BAINS
France
+33 (0)4 50 71 86 57
jmm@morpho.tm.fr
MORPHO snowshoes general characteristics
-Material: polypropylene copolymer base, Polyamide 66 rigid articulated binding and heel thrust, polyacetal buckle type toe strap printed 2 sides, 6 metallic spikes, 2 front stainless steel knives 2mm (except Miguet and Trimmy shapes).
• Base structure with « X » vertical stripes providing best possible grip uphill, downhill and in traverse.
• Accepts all types of boots from 19 to 34.5 cms (graduation on the binding),
• Easy boot size adjust Morpholock© systems, for sale or for RENTAL applications
• Silent kit by noise absorption
• Guaranteed down to -38°C, shock resistant.
-The rigid articulated bindings of MORPHO snowshoes are the best available on the market as they offer outstanding and inequaled foot maintaining, Comfort of use and technicality in all terrains that cannot be matched by flexible or semi rigid bindings, usually offered by competition. This is the main contribution of MORPHO snowshoes technology to easing the practice of snowshoeing in all snows and all terrains.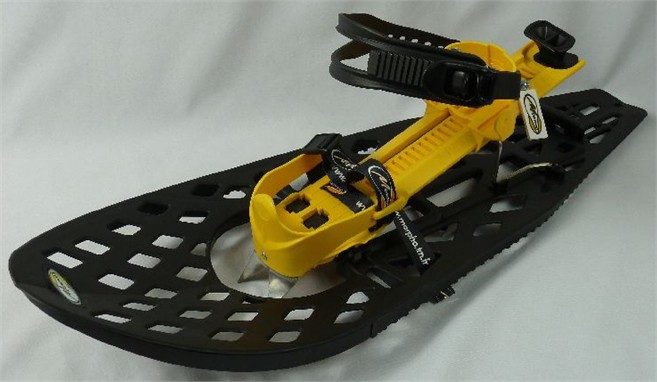 Morphologic shapes and dimensions 3D
a.TRIMOVE S- Floating on an ocean of snow forward and backwards
patented 3D shape, 3rd generation of « snow trimarans » for user's weights:
below 70 kgs (<154lbs): TRIMOVE S. Length : 22.05in, max. Width : 8.03in, Front Tip Height: 3.78in, Floatation: 2 x 155.78in2, Hydrodynamic rear tip: Twin Tip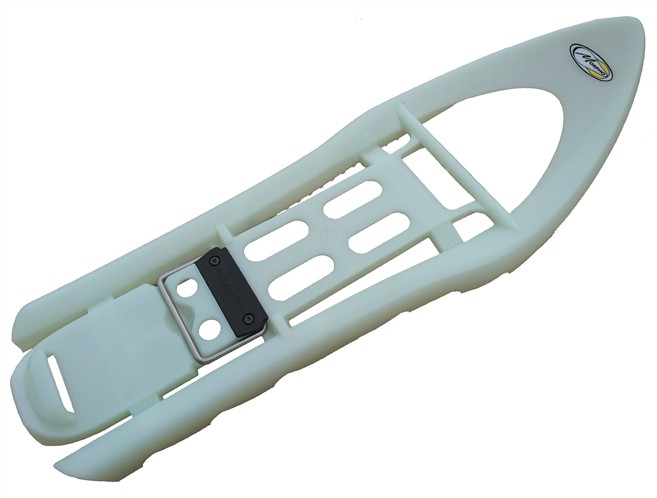 Morphologic shapes and dimensions 3D
b. TRIMOVE shape- Floating on the ocean of snow
3D patented shape, 2nd generation of « snow trimaran» for weights:
1. 60 to 96kgs: TRIMOVE. Length: 63.4cms, max.Width: 23.3cm, Tip Height: 9.4cm, floatation surface: 2x1245cm2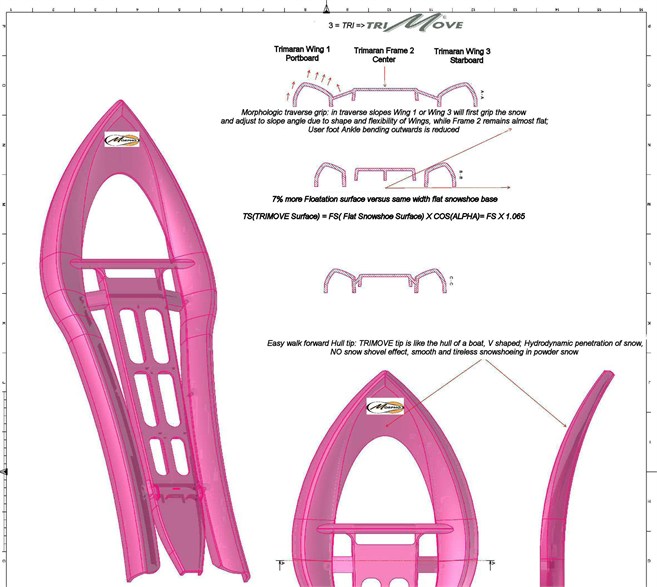 Morphologic shapes and dimensions 3D
c. TRIM shapes- Snow? Simply water
3D patented shapes, the « snow trimaran » with a 20° trim angle for weights:
1. Less than 64kgs: TRIMMY shape. Length: 56cm, max. Width: 23.3 cm, Tip Height: 9.4cm, floatation surface: 2x945cm2
2. 60 to 96kgs: TRIMO shape. Length: 62.5cm, max. Width: 20.4cm, Tip Height: 9.4cm, floatation surface: 2x1170cm2
3. More than 90kgs: TRIM shape. Length: 78 cm, max. Width: 25 cm, Tip Height: 10cm, floatation surface: 2x1450cm2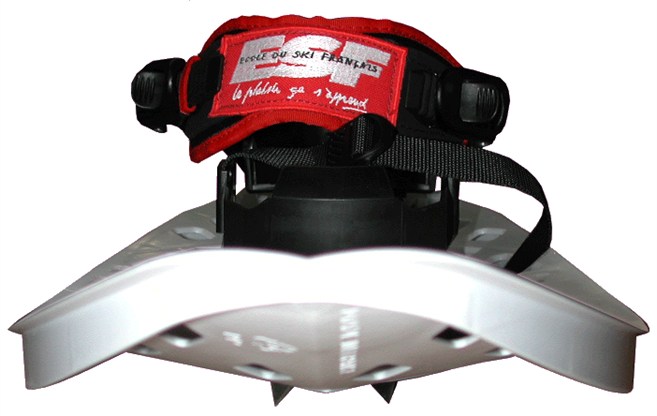 Morphologic shapes and dimensions 2D
d. MORPHO shapes-THE historical snowshoes
2D shapes with waist concave side cut for weights:
1. Less than 64kgs: MIGUET shape. Length: 53.5cm, max. Width: 23cm, min. width: 18.5 cm, floatation surface: 2x945cm2
2. 60 to 96kgs: MORPHO shape. Length: 65cm, max. Width: 25cm, min. width: 19.5 cm, floatation surface : 2x1170cm2